Small Things Can Make a Big Difference: In a Pinch Real Life Stories
Remember the last time you committed a small act of kindness that made you feel like you truly made an impact on another person's life? Even better, did you get to hear specifically how your contribution helped that person, how their situation changed? That's the type of heartfelt feedback we're hearing about the difference YWCA Greater Harrisburg's In a Pinch Fund is making, thanks to many just like you.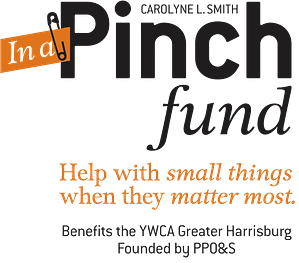 The fund, started in 2004 by the late Carolyne Smith, my business partner, dear friend and mentor to many, has helped women living at the YWCA shelter with small, one-time financial grants to cover immediate needs. Despite her business success, Carolyne never forgot what it was like to not have those small but important items that help one feel empowered to move toward a better life. "When you are trying to turn your life around, sometimes it's the tiny obstacles that prove the hardest to overcome," is what she used to say. I'm proud that hundreds of donors have understood her sentiment and been part of the Fund's recent success.
In October, Team PPO&S pledges to continue to share our success by actively promoting awareness of and contributions to the In a Pinch Fund. You'll hear more about those events and dates in the days and weeks ahead but truth be told, the real success of In a Pinch lies in the stories… of small obstacles overcome. Let me know if any of these move you as they have me.
From human trafficking nightmare to nursing career dream
One story belongs to Tanisha. Trained in her native Puerto Rico as a Licensed Practical Nurse but lured into human trafficking, she was safely sheltering at the YWCA. Still dreaming of a nursing career but with no money to take the next step, Tanisha felt stuck. In a Pinch covered the fees for her to register with the Pennsylvania State Board of Nursing and take the Pennsylvania State LPN exam. Tanisha is now a nurse!
From discomfort and isolation to recovery and socialization
When an obstacle seemed insurmountable, In a Pinch helped clear the way. Mary Beth was residing in the YWCA's Safe Haven program and receiving mental health services, but a highly infectious skin condition was keeping her isolated, and her health plan didn't cover a necessary medication. In a Pinch paid for her treatment and Mary Beth is now feeling better, interacting with family, and participating in programs to help her work toward independence.
From a lifetime of incarceration to a job and freedom from debt
Sometimes In a Pinch provides a boost to those who are newly committed to turning their lives around. Denise had been incarcerated for most of her adult life, but now employed, wanted to become a counselor to help others in similar circumstances. Her barrier was getting to and from work. Through the In a Pinch Fund, Denise received two monthly bus passes to cover her transportation. She can now put her income toward paying off old fines that had been holding her back.
The stories – and notes of personal thanks received from these women – are humbling. I am beyond grateful for the opportunity to help grow this initiative and so proud of how my colleagues at PPO&S are leveraging their talents on behalf of this worth cause.
I salute the fantastic YWCA caseworkers who find creative ways to use In a Pinch funding to enhance the services they tirelessly provide. And, I thank you for taking the time to understand how a small action can make a large impact right here so close to home.
Plan to join us in October or consider making your own impact now by donating online at ywcahbg.org/donate/carolyne-smith-pinch-fund.
Follow us on Facebook, LinkedIn and Twitter to hear more about In a Pinch events coming up in the weeks ahead.