The Lost History of Cinco de Mayo Thanks To Advertising
Years ago, my former boss approached me with the face of a curious child and asked, "Carlos, do you celebrate Cinco de Mayo?" "I'm Puerto Rican," I responded. It was my first day with the agency (they also ordered food in my honor from a restaurant called Carlos & Charlies but that's an HR topic for another time). No, I don't celebrate Cinco de Mayo, not only because I'm not Mexican but because this day is not a major Mexican holiday, contrary to American popular belief.
Although I'd like to spend the rest of this article giving you pointers on what not to say to or believe about those of us from the Latinx community, I'm more interested in investigating why Cinco de Mayo has become more popular in the U.S. than in Mexico. Considering that 90% of Americans don't know what Cinco de Mayo is actually about, I'm compelled to look to advertising as a major contributor to this day's rise in modern popularity.
Think about it for a minute. What words and images come to mind when you hear Cinco de Mayo (besides guacamole and Mexican Independence Day — more on this later)? You'll likely recall restaurant posters and advertisements promoting Mexican food, mariachi music and margaritas. In fact, more than half of Americans drink alcohol to celebrate this day, so alcohol may be top on your mental list of images you associate with the "holiday." This is not a coincidence.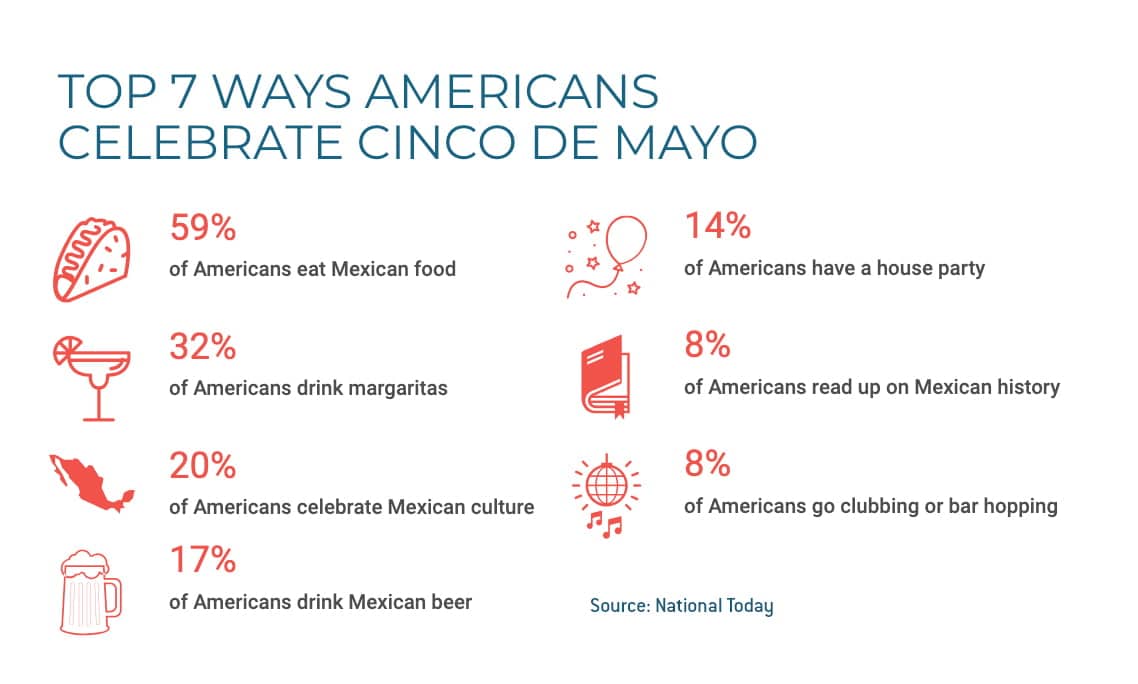 As with St. Patrick's Day, the alcohol industry seized the opportunity to make Cinco de Mayo a holiday you can't celebrate without alcohol. Metaphorically speaking, they transformed Cinco de Mayo into an alcohol brand.
In the 1980s, Anheuser-Busch and Miller Company sponsored Cinco de Mayo events to tap into the Latinx market. The first-known, retail-based Cinco de Mayo ad campaign launched in 1989 to persuade Mexican Americans and the rest of America to drink Mexican beer. In 2014, Cinco de Mayo became the biggest drinking day of the year after the winter holidays. As retail giants, restaurants and small businesses caught on to the profit potential of this day and the market expanded, the meaning of the holiday was quickly lost and fast-forward to today, reduced to being a symbol of drinking in non-Mexican-American communities.
I find it odd when non-Latinos drink and wish people a happy Cinco de Mayo but are clueless about what this day means. Although Cinco de Mayo never amounted to be a real holiday, it does carry a rich history that can make the day truly worth celebrating by all Americans.
My former boss, like many Americans, probably believed Cinco de Mayo commemorated Mexican Independence Day. But if she dug a little deeper, she would have learned the following about Cinco de Mayo:
It does not memorialize Mexico's Independence Day (that's on September 16).
It occurred in the second year of the American Civil War.
It marks Mexico's victory over France at the Battle of Puebla — at the time, the Confederacy was seeking assistance from France, so this defeat impacted the outcome of the Civil War.
It was first celebrated by Mexican Americans as part of the cause to abolish slavery.
Prior to the 1980s, it celebrated Mexican heritage and was used to advance civil rights.
I'm disheartened by how much of this history was lost because of consumerism and advertising. Doesn't it make Cinco de Mayo more valuable? So, my dear advertisers (and you, too, retailers and restaurants), let's start undoing three decades of misinformation about Cinco de Mayo and create content that reintroduces its historical significance. And here's my first stab at an ad promo that does this: A character in Civil War uniform holding a margarita — it's entertaining, thought-provoking, educational and very much worth making a real holiday we all can celebrate.