Workplace Culture and Reputation: 6 Tips To Drive Employee Communications and Engagement
Your organization's reputation is its most valuable asset. It's far too important to be left vulnerable or taken for granted.
But how vigilant are you in the ongoing maintenance and protection of it?
In 2018, we asked this question of more than 400 people representing Pennsylvania businesses, trade associations and not-for-profits. Many admitted that they were not sure how well prepared they really were for the constant state of churn and change that defines today's business environment. No matter the audience, the common concern centered on how reputational issues can undermine trust with customers, investors and thought leaders, in some cases irretrievably.
Many organizations spend considerable time and treasure managing their external image. But how much attention is paid to the impact of reputation on your internal ambassadors — your employees? How does reputation — good, bad or unknown — influence a company's ability to recruit and retain top professionals? Taken a step further, how does employee behavior shape a business reputation?
Ask an HR professional to address these questions and they will tell you that a healthy workplace culture is the key to recruitment, retention and reputation. There is no shortage of PR crises that arise from a dysfunctional workplace. Uber's CEO Travis Kalanick was forced to resign by the board for tolerating an aggressive workplace that led to allegations of sexual harassment, threats from managers and outright discrimination. In 2018, Amazon defended itself against claims of making impossible demands on employees, thereby, creating a culture of antagonism and high turnover rates.
The era of #MeToo has leadership from across industries and organizations asking themselves how they can take a more active role in maintaining a productive, inclusive and safe workplace. HR teams will tell you that it starts with hiring employees who share the organizational values — integrity, respect, teamwork — to name a few. With the right people in place, keeping the lines of communication open and getting serious about employee engagement will mitigate issues that can lead to low morale, bad behavior and reputational firestorms.
Here are 6 straightforward tips to help drive internal communications and employee engagement:
Tip 1: Foster a culture of trust and transparency
Effective internal communications begins with the tone at the top. Employees want to hear from their leadership team about where the organization is going and their role in its future. Making sure that promises are kept and explaining why decisions are made will contribute to a healthy sense of security and employee morale.
Tip 2: Review your workplace policies
Beyond the employee handbook, it may be time to inventory and update workplace policies — everything from social media protocols to expectations of employee behavior. Even if policies appear to be up-to-date, check the last time employees received mandatory training on workplace issues. Few of us will forget the recent Starbucks incident in Philadelphia, which resulted in public apologies, a day-long closure of 8,000 locations, and a rededication to employee anti-bias training.
Tip 3: Be sure employees hear important news from you
Many of today's workplaces employ five generations ranging from recent grads to the traditionists who are in their 70's. These employees want to receive their information in vastly different ways so evaluate your internal communications channels to be sure that they reach all employees in the ways they want to be reached. It may be time to experiment with new channels and abandon the ones that are no longer relevant.
Tip 4: When crisis hits, don't wait to communicate
In the absence of accurate information, speculation fills the void so don't wait for an incident to occur before communicating. When a difficult issue or challenge gets everyone's attention, employees will be watching closely to see if you respond quickly and in an equitable way. Always remember, people will measure you by how you respond when the heat gets turned up.
Tip 5: Recognize and appreciate your employees
Employee recognition and appreciation makes good business sense. Check out Maslow's Hierarchy of Needs to understand how we all share a need for self-esteem, confidence and respect from others. Recognition and appreciation increase individual productivity and lead to a greater degree of employee satisfaction. Take an opportunity to provide positive feedback to an individual and the rest of the team will be watching.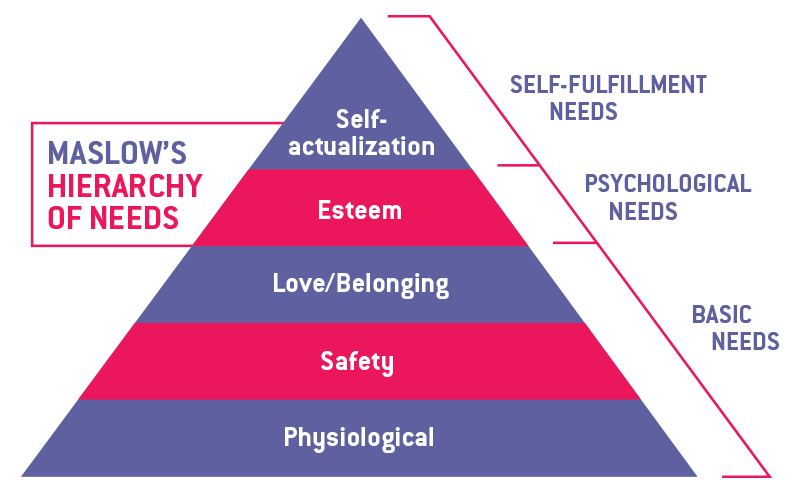 Tip 6 — Create a mechanism for two-way communications
Organizations need to demonstrate to employees that they are willing to listen to their feedback and concerns. If they don't, unethical behavior, including harassment or even abuse, could spread throughout the organization. When concerns are raised — even suggestions for improvements — businesses should be prepared to act upon them or explain why not.
At PPO&S, our approach helps clients understand ways to protect and enhance their brand's reputation. Take care of the knitting internally and the reputation of your brand will benefit. Employees are an organization's greatest assets and how they impact reputation has long-term consequences.